News
 
'Stray Dogs', Marziyeh Meshkiny's second feature film which will begin shooting in Afghanistan in December of this year, received production permit from the Ministry of Culture. The film will be produced by Makhmalbaf Film House with Ebrahim Ghafouri as director of photography, Farrokh...
Post date:
Friday, 31 October, 2003 - 00:00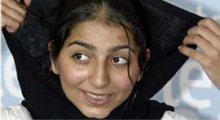 Hana Makhmalbaf's first feature premiered at the Venice film festival - shame she was too young to be allowed in. She talks to Fiachra Gibbons
Monday October 27, 2003
The Guardian
It takes a special type of bravery to stand in front of Iranian film...
Post date:
Monday, 27 October, 2003 - 21:00
 
The film 'At Five in the Afternoon' by Samira Makhmalbaf won the Golden Peacock, competition (first prize) for best film at the 34th International Film Festival of India held from October 9-19 2003 in Delhi.
She also won the festival's cash prize for 500,000 rupees (equivalent of...
Post date:
Sunday, 19 October, 2003 - 21:30
The films At Five in the Afternoon by Samira Makhmalbaf and Joy of Madness by Hana Makhmalbaf will be shown in the 47th London Film Festival from October 22 to November 6th of this year. Hana and Samira will both attend this festival. Samira Makhmalbaf first attended this festival in 1998 with...
Post date:
Friday, 17 October, 2003 - 14:28
 
The Pusan Film Festival in South Korea presented the 2003 Asian Filmmaker Award to Mohsen Makhmalbaf.
Post date:
Wednesday, 15 October, 2003 - 00:00
 
The 8th Pusan Film Festival held a program titled "Forough Farokhzad, the Iranian Cinema's Big Sister" in honor of the poetess. In the program Forough's poems were recited in Korean. Also a book titled "The Wind Will Carry Us" has been published which includes Forough's poems in English...
Post date:
Friday, 10 October, 2003 - 00:00
 
 
The internationaly known Iranian film-maker Samira Makhmalbaf, 23 years old, who won special jury award of Cannes film festival 2003 and Grand prize of Society of churches of world for the film "At 5 in the afternoon" is invited to 8 international film festival as a jury member...
Post date:
Monday, 30 June, 2003 - 00:00
Pages