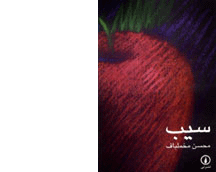 Original Title: Sib
Written by: Mohsen Makhmalbaf
Subject: Script and Photographs
Language: Persian, English
Translator: Minou Moshiri
Photographer: Maysam Makhmalbaf
Cover design: Bahareh Izadpanah
Number of pages: 96 Pages, (40 Persian pages, 8 pages colored photographs, 48 pages translated to English)
Print volume: 5500 copies
Size: 21 X 14 cm
Edition: First
Year: 1998
Publisher: Nashr-e-Ney, P.O,Box: 13165-556, Tehran, Iran
 
Comments:
This script has been laid down from the movie Apple, made by Samira Makhmalbaf. The plan of this script is by Mohsen Makhmalbaf and Mohsen Makhmalbaf, himself, has edited the final lay down of the script from the produced movie. But despite this fact Mohsen Makhmalbaf believes that " The dialogues of this script belongs to the director or in other words the real actors of the movie and only the plan of the script should be known as mine."